SALT LAKE CITY — Everybody loves to root for the underdog, and it's no different in the takeout bracket challenge.
That's the case this week as all four No. 11 seeds advanced to the Final Four round, but all are anything but underdogs in the state of Utah. All four just happen to be the write-in restaurants to the bracket challenge, so apparently the people spoke and spoke loudly (and continued to vote).
For our final two matchups after approximately 200 local restaurants were recommended to KSL.com, we have Cafe Rio taking on The Pie Pizzeria, and JCW's against Crown Burgers for a spot in the championship round.
Cafe Rio is arguably the biggest player here as it is the ubiquitous Mexican-inspired restaurant in the state. It's grown so large that it has expanded outside Utah's borders and attracts a lot of attention from in-state and out-of-state customers. But it's going up against a mostly Salt Lake County-based pizza joint (we see you in Ogden, too) with a great vibe. The Pie claims to be "voted Utah's best pizza" so let's see if it can also claim another award.
As for the other two restaurants left to battle, it's burger vs. burger (and gyros if we're being technical). JCW's started as a Utah County-based burger joint that has crept into the Salt Lake Valley and has won over many people along the Wasatch Front. But it goes up against Crown Burgers and its famous pastrami cheeseburger and fry sauce. Crown Burgers also claims to have had the "best burger in Utah" in 2011, but can it do it again in 2021?
Admittedly, a Crown Burgers restaurant is across the street from the Triad Center, so I've had more than my fair share of Crown Burgers in my decade with KSL.com. And if you've ever attended a Utah Jazz game, concert or other event at Vivint Arena, you'd be hard-pressed to pass up the iconic burger in Utah. This is not me pulling for Crown Burger — just stating cold hard facts.
So who are you going to vote for in this takeout challenge?
There have already been a lot of great restaurants defeated along the way, but hopefully you've learned about some other restaurants where you can get delicious food. Go expand your food palate while also supporting local businesses — nothing can be bad about that. Plus, it's food; can you ever really go wrong with something that literally keeps you alive? I think I've made my point.
Go vote and share the bracket with your friends, family and co-workers — or complete strangers, too — and then come back and do it again. This isn't a scientific poll, so it's all about how many people you can get to rally around your favorite restaurants.
Enjoy!
If you can't see the survey below, click here. To see the results click here.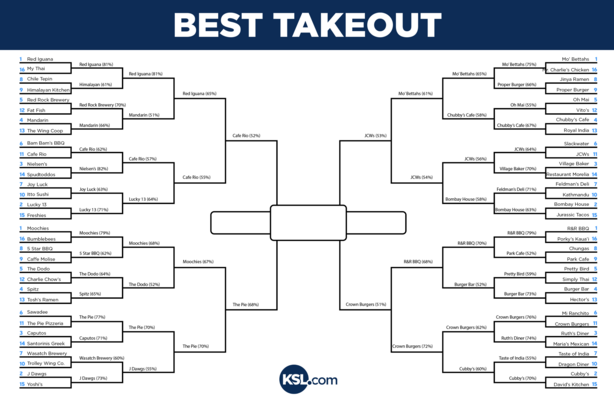 ×
Related Stories
More stories you may be interested in