SALT LAKE CITY — As expected, the first round of the best takeout bracket challenge basically went to the higher-seeded restaurant — that is unless the restaurant was a No. 11 seed.
The No. 11 seed went to the write-in restaurants from Monday's sorting and are arguably some of the more popular restaurants in the state, so it's no real surprise they did well. Sorry to all the No. 6 seeds that were thrown into that mix against some heavy hitters — Sawadee is always a favorite of mine and I can never turn down good BBQ food from Bam Bam's.
The most hotly-contested matchup of the opening round was between two of my favorites: Chungas and the Park Cafe. The always-great Mexican restaurant took an early lead before everyone's favorite breakfast spot pulled away late to claim 52% of the votes. The only other close winners were Oh Mai (55%) edging past the Bountiful cheesesteaks of Vito's and the Taste of India (55%) moving past Dragon Diner.
The most decisive victory of the opening round went to No. 3 seeded Nielsen's Frozen Custard (82%) — a family favorite, especially during the pandemic — over Spudtoddos. Nielsen's made a shift to accepting credit cards at a fortuitous time and has served my family with incredible food and desserts at least monthly over the last year.
Moving forward, the matchups become a little more interesting as some heavy favorites meet up, like The Pie (77%) going up against Caputos (71%), or Cafe Rio (62%) looking to dethrone Nielsen's. Also, how can you really decide between Pretty Bird (59%) and Burger Bar (73%)? My mouth is watering already.
My favorite matchups: The lucky ☘️ pairing between Joy Luck (63%) and Lucky 13 (71%) and The Dodo (64%) and Spitz (65%) — The Dodo Spitz? 🤔
Anyway … it's now time for you to vote. There's no right or wrong way to vote here — that is unless you vote against my favorites (I have a lot if you can't tell). Vote for the restaurant that makes you hungry just by saying its name or a new one you've never heard of before this challenge.
If anything should be gained from this challenge it's that you now have several great places to get takeout from over the next little while, all while supporting local restaurants. So quit reading already and vote — do it twice if you feel so inclined. I'll record the results at midnight Friday, though voting can still occur after the "polls close" (your votes just won't be official 🤫).
If you can't see the survey below, click here. To see the results, click here.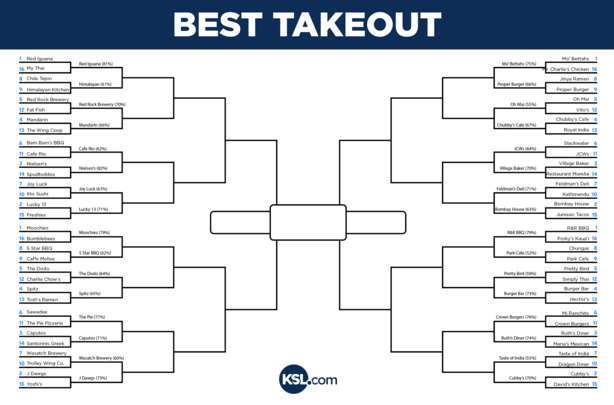 ×
Related Stories
More stories you may be interested in