SALT LAKE CITY — It's been a few days since our last round of the takeout bracket challenge, but we're still here.
And just like the NCAA Tournament that began over the weekend, there's been a few upsets depending on your favorite takeout restaurant — I'm still mad about Pretty Bird losing, but I'll get over it with a chicken sandwich later.
Regardless of the results, we still like food over here at KSL.com and want to see which restaurant does takeout the best — admittedly, this has turned into more about your favorite local restaurants in general, but nobody's stopping you in how you vote.
Last week, Red Iguana was the biggest winner as it claimed 81% of the votes against Himalayan Kitchen. Admittedly, Red Iguana is a tough one to beat in this competition. Everyone seems to recommend the Mexican restaurant to outsiders as the go-to destination when in town. But is there an upset to be had this week as the Mandarin, a Chinese restaurant tucked into the suburban life of Bountiful, takes on the superpower and No. 1 overall seed?
The Mandarin was actually involved in the closest matchup last week, narrowly beating out Red Rock Brewery with 51% of the vote. But maybe it will have a resurgence against Red Iguana. The next round appears to be a heavy hitter matchup with Cafe Rio, which beat Nielsen's Frozen Custard with 57% of the vote, or Lucky 13, which beat Joy Luck with 64% of the vote.
Decisions. Decisions.
So who are you going to vote for this week in the Sweet 16 round? All of the restaurants that moved on are great, so you can't really make a wrong pick — well, except for you, you know who you are!
Go vote 10 times if you want to — this isn't a scientific poll. Have some fun with it, share it with co-workers or friends, and find some new (or old) places to get some takeout and support local businesses.
Just for the sake of transparency: I inadvertently left off one pairing in last week's survey — Feldman's Deli vs. Bombay House. I corrected the issue by taking the poll to Twitter, which is better than completely skipping it altogether, and the Bombay House came out on top with 58% of the vote.
If you can't see the survey below, click here. To view the results, click here.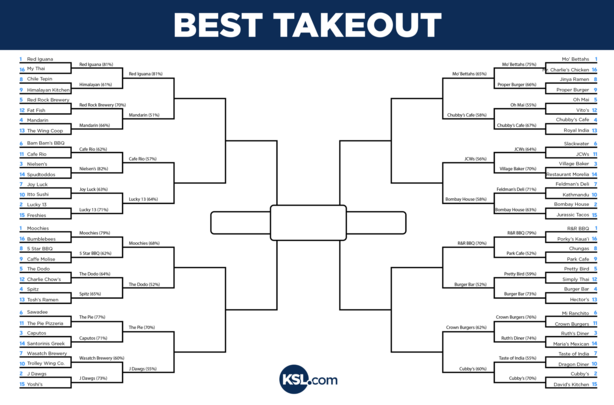 ×
More stories you may be interested in