The space is owned by Cleveland-based entertainment group Forward Hospitality, and renowned chef Andrew Brochu.
SHAKER HEIGHTS, Ohio — Forward Hospitality is a Cleveland-based restaurant and entertainment group that operates Flip Side, Three Palms, One Red Door, Bell & Flower, Magnolia, FWD Day + Nightclub and SeeSaw in Columbus.
Since taking over the former Sawyer's space in the Van Aken District, the partners at Forward have been busy reinventing the entire space to become Kindred Spirit.
"I like to say that there's not an original screw, nail or even strip of paint in the space," says Rick Turner, operating partner. "We've completely transformed it. The entire feel of the room is different and that's really going to translate well to the menu that chef Brochu has put together for us."
For this project, Forward turned to consulting chef Andrew Brochu for help creating the menu. The veteran chef has worked at some of Chicago's top restaurants, including Alinea, Aviary, Roister and Graham Elliot. But for this project, Brochu aimed not for the Michelin stars, but for more down-to-earth appeal.
RELATED: 'Save Our Sauce': Donate here to help restaurant workers in Northeast Ohio
"I've spent so much time in some of the best restaurants in the world and I learned so much at those restaurants," explains Brochu. "But as I got older as a chef, I really started leaning towards that family tradition, that homey style of cooking that you would want on a daily basis."
The chef describes the menu in broad strokes as "West Coast energy with influence from the Mediterranean and around the globe." He and executive chef Dennis Davis will employ wood-fired grills and ovens in the open kitchen to create fresh, healthy and flavorful small plates and sharable platters built around greens, grains, veggies, fish and a handful of meats.
Some of the food and drink at Kindred Spirit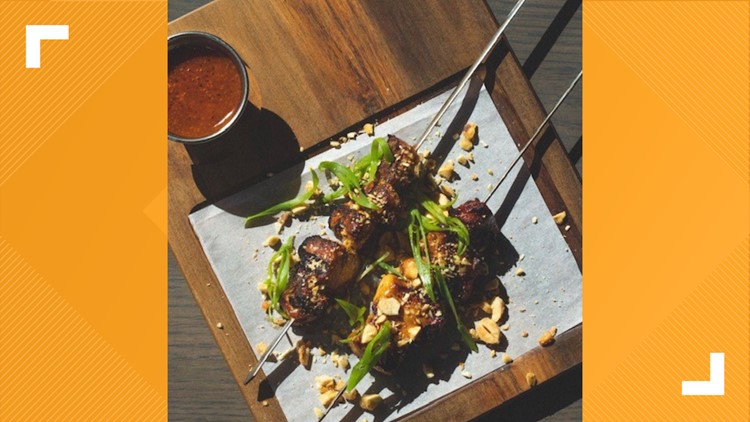 RELATED: The popularity of pandemic pop-ups | Doug Trattner reports
For now, Kindred Spirit is dinner only, but the plan is to roll out weekend brunch sometime in April.
"We want to be the brunch destination on the east side," Turner says.
Garden City, the rooftop cocktail bar also operated by Forward, will open around the same time, providing diners with a stylish place to grab a pre- or post-dinner cocktail. For those bound specifically for Garden City, a small roster of bar bites will be available.
Combined, the two operations provide more than 2,500 square feet of outdoor space.
Learn more about both places, here.