Households can cook virtually alongside an internationally seasoned chef on Monday as part of Arts & The Park.
Today is the deadline to sign up for the virtual cooking class, which costs $25 per household, according to Mary Zunick, executive director of the Hot Springs Area Cultural Alliance. The class starts at 6 p.m. Monday and will be led by Josh Garland, executive chef of Best Cafe, 632 Ouachita Ave.
Garland, originally from Little Rock, attended Le Cordon Bleu College of Culinary Arts in Las Vegas after high school. Since graduating from college in 2012, Garland said he traveled "pretty much everywhere from Alaska to Singapore to Malaysia to Nantucket. Most recently I was in Vero Beach, Fla."
"I have returned home after 10 years," he said.
Garland said Monday's dish, beef Bolognese, is a "traditional Italian dish" that was "one of the first dishes I learned as a cook and probably my favorite dish to make."
The dish is "normally served with that bucatini pasta, which is spaghetti with a hole in the middle," he said. "It's my favorite dish, man, it brings me back home. It's pretty much an upgraded … meatballs and spaghetti."
Garland noted it's "a simple dish with a lot of flavor," and will take around 45 minutes to cook. Once completed, the meal will feed a family of "five to eight."
Video not playing? Click here https://www.youtube.com/embed/0_fJtStG4QE
This is the second year a virtual cooking class has been part of Arts & The Park, with Chef Josh Barr of Eden doing the honors last year. "It was such a huge success that we decided to do it again," Zunick said.
"We had always wanted to involve culinary arts with Arts & The Park, but it's kind of tricky to find a location that will accommodate everyone, and timing, so this has been something very positive," she said.
"He is just an incredibly talented chef," Zunick said of Garland, noting "everything we tried was delicious" at the restaurant.
While the Best Cafe has been open for years, in 2020 it was bought by new owners, Rhonda and Mark McMurry. Garland said he went to school with their son, Nathan.
"They have followed me pretty much my whole career. They saw what I've been doing and they flew me out for an audition," Garland said. "They offered me the opportunity to finally come home and make a name for myself."
Garland said he moved to Hot Springs in December 2020 and started working toward reopening the restaurant, noting he, the new owners, and the other new employees "pretty much built a whole new restaurant in a month and a half."
The restaurant is open from 7 a.m. until 2 p.m. seven days a week. Garland said he created an entirely new menu for the restaurant, putting a "little twist on traditional dishes."
Since opening March 1, Garland said, "it's going extremely well. We've exceeded our expectations."
On weekends they are averaging 200 customers, and are averaging around 80 on weekdays so they are "doing really well," he said.
James Debray, junior sous chef at Best Cafe, slices bread in the cafe's kitchen Thursday. – Photo by Tanner Newton of The Sentinel-Record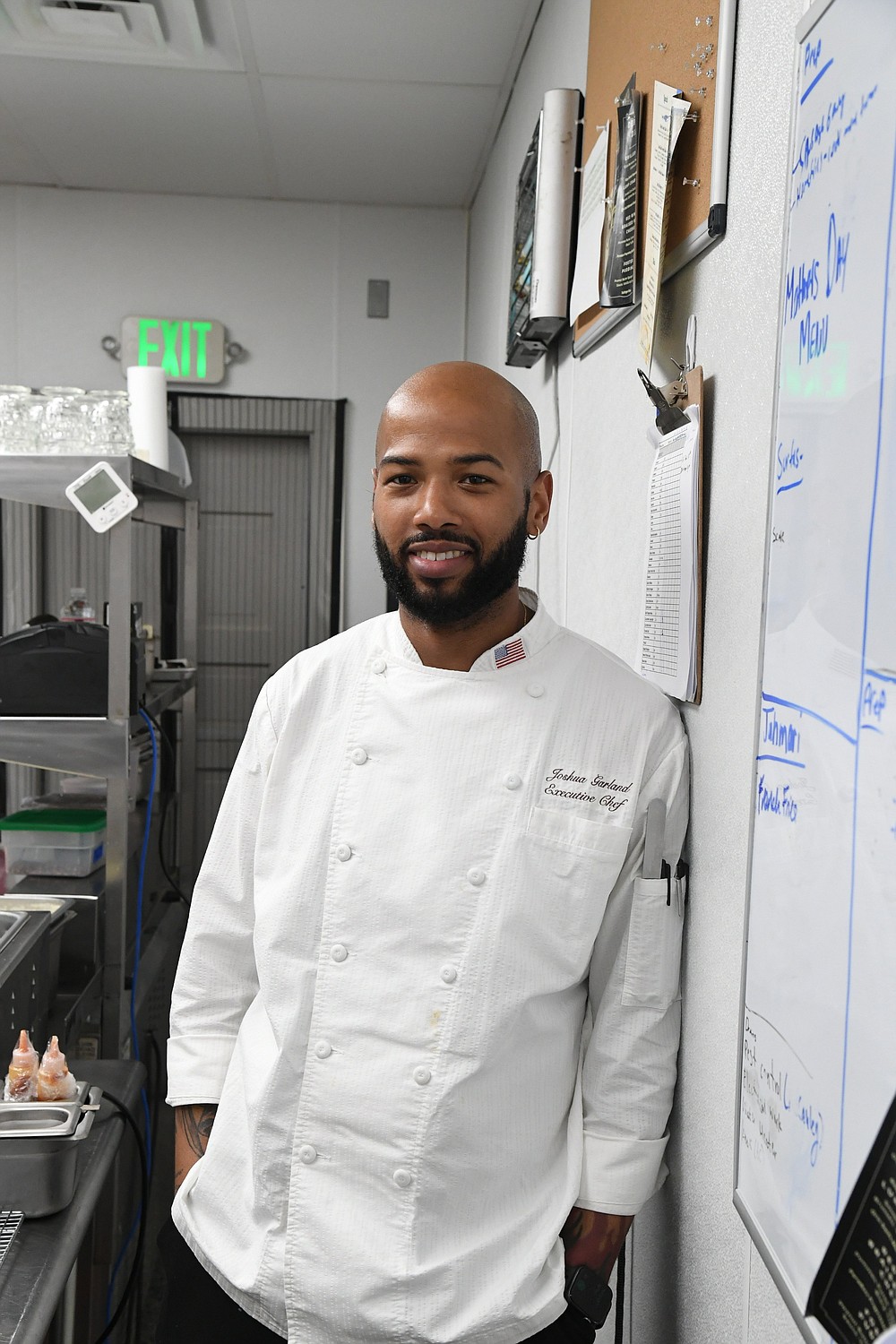 Executive Chef Josh Garland of Best Cafe stands in the cafe's kitchen. He will teach how to cook beef Bolognese during a virtual cooking lesson for Arts & The Park on Monday. – Photo by Tanner Newton of The Sentinel-Record