This article got its start, as food-related articles often do, from an argument. My dining partner and I were discussing the different chicken sandwiches that you could get from the fast-food restaurant chains. My dining partner suggested I test a selection of the popular fast-food-style chicken sandwiches and inform you, dear readers, of just what your purchase will cost you, both in your pocket and your digestion.
The Test
I chose five chicken sandwiches, one each from five different fast food-style restaurants. Each sandwich had breast meat of chicken as the main protein source. Each chicken piece was breaded, fried, assembled, bagged and served to me via the restaurant's drive-thru.
The nutrition values listed with each tested chicken sandwich are listed at the restaurant itself, and also on the company's website. Oh, and 1,150 mg sodium equals half a teaspoon of table salt.
Chick-fil-A Chicken Sandwich 440 calories, 19 g. fat, 1,350 mg sodium, 28 g. protein. $3.99
The Chick-fil-A sandwich is simple to make: a trimmed chicken breast, dipped in an egg and milk wash, tossed in seasoned breading and then pressure-cooked. This particular chicken breast seemed smaller than I remembered from previous encounters. The meat was dense, appropriately seasoned, its dill pickle providing a biting crunchy finishing note.
Hardee's Big Chicken Sandwich 590 calories, 29 g. fat, 1,060 mg sodium, 21 g. protein. $5.19
The fried chicken breast used in Hardee's Big Chicken sandwich overlaps its buttery bun by a good inch or more, and it does look appetizing with its lettuce and tomato. (It should be, for $5.19.) Looks aren't everything, though. The meat seemed rubbery, while its taste was good, but not great.
McDonald's McChicken Sandwich 400 calories, 21 g. fat, 1,040 mg. sodium, 25 g. protein. $3.63
McDonald's has come up with a tasty and nutritious chicken sandwich. The McDonald's McChicken Sandwich has just 400 calories, a low 21 grams of fat and the least amount of sodium per serving than the other four entries. The McChicken has a blend of spices that subtly enhances the overall flavor, and is finished with a dill pickle slice and split-top bun. The McChicken Sandwich is excellent, and a bargain at $3.63.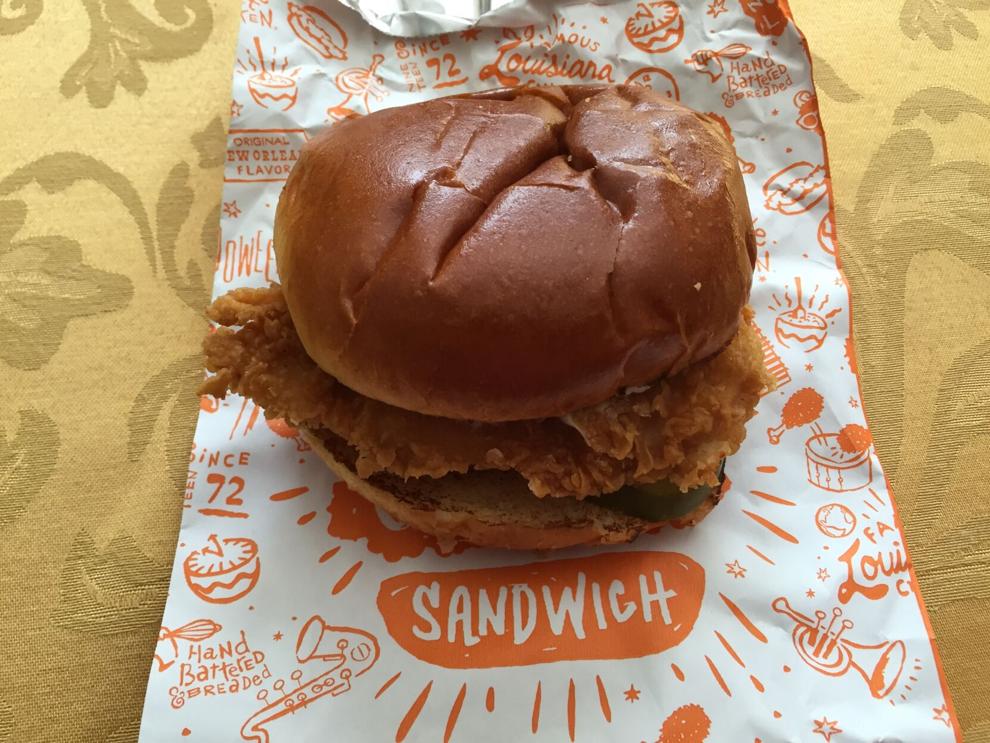 Popeye's Classic Chicken Sandwich 690 calories, 42 g. fat, 1,443 mg sodium, 28 g. protein. $3.99
Popeye's Classic Chicken Sandwich is marketed as being more of a chicken sandwich than those of the competition. You do get a lot for your $3.99. There is more sandwich here, of course. There is also more protein, more fat, more calories and more sodium. Sadly, every bite I took had more flavor of fry oil, and less flavor of sandwich.
Wendy's Classic Chicken Sandwich 490 calories, 21 g. fat, 1,450 mg sodium, 28 g protein. $4.89
Wendy's version of the chicken sandwich has a good-sized chicken breast fried in lightly-seasoned breading, and assembled with fresh lettuce and tomato on a tasty bun. Folks, my Wendy's Classic Chicken Sandwich tasted nearest to what my mom's fried chicken tasted like.
The Wrap-up
These results are, of course, arbitrary. You may not agree with the restaurants I chose. The kind of chicken sandwich I reviewed may not be the one you'd order from that restaurant's menu.
So, the next time you pull into that restaurant's drive-thru lane and search their menu for a chicken sandwich, I encourage you to conduct your own on-the-spot test; use your taste buds to find your own favorite chicken sandwich.